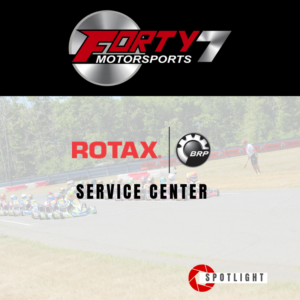 [Forty 7 Motorsports]
The dedicated Motorsports company located at New Jersey Motorsports Park provides a unique turnkey solution for the recreational Karter all the way to the aspiring young race car driver.  The business is located at the entrance of the NJMP complex in a state-of-the-art facility just a stone's throw from the world-renowned karting circuit.  With ample space the facility houses all the administrative offices, warehousing, assembly and a full fabrication department under one roof!
"Forty 7 has an amazing staff and is commitment to Motorsports in a 360 degree sense.  They not only provide all the the services a recreational participant could want including sales, prep, storage and training, but they also have the ability to scale entry level drivers all the way to their Motorsports program which competes in the IMSA program.  All these facets coupled with their dedicated staff and inventory stock levels really provide the market a key source for everything!" – J3 Management
Forty 7 Motorsports' day to day karting activities are managed by long-time member Alex Salsbury who ensure the company's growing client base has the products and services in order to keep their experience fun, fast and cost effective.  As a Rotax Service Center, Forty 7 offers the entire line of Rotax karting products including the MoJo tire line and XPS lubricants, alongside providing  engine maintenance to give the customer a full-service platform.
For 2019 the team has elevated their karting operation providing a very structured platform that has seen the team traverse the eastern part of the United States at various competitions while equally providing the services and support to the local participant base, which is a critical growth strategy for the business.  The team will be onsite at he inaugural Stars & Stripes Open event with a full staff and support structure for its client base, truly embodying the sport and intent of the Rotax Racing Program.
For further information, 47 Motorsports can be reached at;
Alex@race47.com | Alex Salsbury | +1 856-765-5858
FORTY7 MOTORSPORTS
1 MOTORSPORTS BLVD
MILLVILLE, NJ 08332